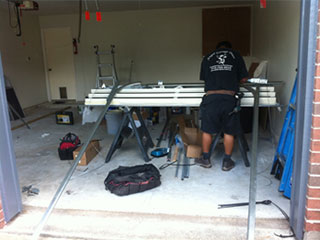 Attempting garage door repairs yourself is risky
Although you may not have paused to consider it before, your garage door is a heavy and complicated machine. It may seem simple enough, but there are many types of parts that go into making your door open and close. Over time, between use, weather, and accidental bumps, these parts will become worn or might even break down. Trying to determine whether the trouble is with the cable, rollers, opener, or otherwise if you don't know what you're doing is asking for even more trouble. Not only will it cost you time and money if you replace the wrong thing, but an inexperienced and clumsy job can worsen the health of your door. Be smart and safe, and call the professionals instead.
Worn out parts or a malfunctioning opener? We'll handle it!
With years of experience, you can be certain that we've tended to just about any and every type of problem there is. We'll know whether the cables that bear the brunt of supporting your garage door's weight just need to be repaired, or if they need to be replaced altogether. Or it could be that the trouble is actually with your rollers. Even your garage door opener can be the culprit of your door slowing down, making noise, or not wanting to open at all. No matter the model, and whatever needs tightening or to be switched out, our trained team will know what to do.
Unexpected disaster? We're here for you!
Repair work can't always be something planned out. There are things that are simply out of our control, such as storm damage, or a sudden accident. If you're frantic to get your door in working order again, with places to be ASAP, call us right away. We're available for emergency repairs, and will get your door back to functioning again in no time. You'll be able to get back to that busy schedule before you know it.
Save yourself the bother!
Nobody wants to waste their precious free time trying to figure out which part is what, and if it's damaged or not. Even worse, it could cost you far more in the long run. Overhead Garage Door Minneapolis is here to tend to it all for you easily and quickly. Call today! You'll be glad you did.
We also offer the following services:
Garage Door Safety Inspections
Belt Drive Opener Installation
Torsion Spring Adjustment
Emergency Garage Door Repairs