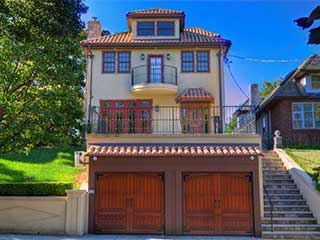 Together with the opener, the overhead garage door is the largest moving system in most homes. It is extremely easy to use while making the garage much more secure and more convenient for keeping your car or for storage. At the same time, if the system is not properly set up or cared for, it can start to malfunction and pose a serious safety risk among other issues. Make sure that this will not happen by taking the following important measures.
The Main Safety Precautions
Check to confirm that your opener meets the UL 325 safety standard. In this case, it will have a safety reversal mechanism and a pair of safety sensors. If the device does not have these features, you should replace it as soon as possible. Remember that both the reversal mechanism and the photo eyes should be tested every three months. If you find a problem with their operation, you must opt for opener repair right away.
The stationary controls of the door operator should be mounted at least five feet above the ground. This applies to both the wall button (console, control panel) and the wireless keypad which has to be set up outside of the garage. In this way, the controls will be out of the reach of children that are too young to operate the system.
Good Care and Maintenance
You should also ensure that the remote controls for the automatic overhead door will not get into the hands of children and be used as toys. Make sure that you store them in places which are difficult or preferably impossible for the youngsters to reach. You should also talk to your children and explain the dangers of playing with these devices.
You can also consider getting a more advanced wall console which has a feature that blocks all signals to the opener. You can use this feature when you have the car in the garage and the kids are playing outside. In this way, you will be certain that no one will be able to open the door even accidentally.
Optimal level of safety can be maintained only when all garage door parts are in good condition. While cleaning and lubrication can be done annually, you will only benefit from inspecting the hardware and opener components more frequently. You should pay close attention to the parts that are at a higher risk of damage and breaking. These include the springs and cables. Remember to check the cables not only for fraying, but for small cuts as well. The latter increase the risk of breakage considerably. You should also inspect the hinges, rollers and trolley very carefully. Damaged and extensively worn parts require timely replacement.