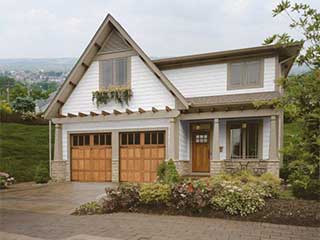 Mess is an often-unavoidable outcome of arts and crafts, and with Valentine's day around the corner, finding a suitable space to create decorations and trinkets to express your romantic side could be a tricky affair. You need a place with a large enough area and versatile surfaces to give you the space you to be truly creative without cluttering your home with glue splatters, spilled paint, paper cuttings and craft tools. And what about keeping it all a surprise to keep the romance alive? These challenges can be met fairly easily this Valentine's day by converting the area veiled by your garage doors into the perfect workshop for your romantic creativity, and here's why.
Garages Will Keep Your Creative Mess Out Of the House
The process of creativity is a messy one, and few things can undermine the power of Valentine's romance like paper cuttings and craft tools littering the floor of a living room. Since your garage is out of the way of your living areas, it provides the perfect space for a workshop where you can go wild with your creative constructions without worrying about creating too much mess.
Garages Have Ample Space for Creativity
Being creative is best done in large spaces, and what better room in your home is there for space than your garage. Once you've moved the car out or to the side, you might be surprised at just how much of an area your garage will give you to work expressively in. Since all of their components such as openers and receivers are supported off of the ground, they will give you ample surface area to experiment and create large and small decorations for your home this Valentine's day.
They Provide You with the Privacy You Need
If you want to make your decorations and crafts a surprise, you'll need an area of the house that is removed from prying eyes where your work can be kept and developed in secret, and what better space could provide this than your garage? Simply ensure that the garage door won't open by shutting of the motor and you'll have an easy time of keeping prying eyes away from your hard work so that nobody spoils the surprise.
They Handle Mess Very Well
Your garage is possibly the best place in your house for handling mess. They are fairly easy to clean since these rooms commonly need to deal with excessive dust and oil spills, amongst many other types of mess that comes with storing a vehicle. This versatility makes them an excellent spot for setting up a creative workshop where you don't have to worry too much about making a mess. Once you are done, a simple sweep or hose-down will be all you need to clean up the mess. A task far more easily done in a garage than in any of your living areas.